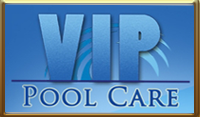 Green Pool Solutions
REO Pool Starts
Power/Pressure Washing Homes/Driveways/Decks
Salt System Installation and Repair
Aqua-Link® Installation and Repair
Pool Light Fixture Repair and Replacement
Pool Pumps, Fountain Pumps, Heat Pumps Repair and Replacement
Phosphate treatments require additional care above the regular maintenance, VIP has a system outlined below to treat phosphates. There is an additional charge to treat the phosphates which is determined on a case by case basis • VIP will test for Phosphates using a phosphate test kit.
• Use industry standard charts to determine correct dosage.
• Pour proper amount of Phosphate Remover into skimmer with system running.
• Run filtration system for 24 hours monitoring filter pressure. Clean or backwash as needed.
• Test for phosphates if/when needed and use Phosphate Remover to keep phosphate levels below 125 ppb.
• For faster and more efficient results, we will add 4 in 1 Clarifier following Phosphate treatment.
Calcium buildup

Calcium buildup also known as scale is caused by dissolved minerals (Calcium) from hard water.  As the water laps upon the tile or Pebble Tec, the water evaporates and leaves behind calcium and other minerals. Calcium build up can also seep out from the mortar used in the building process. Some materials used in pools such as porous tile are even more susceptible to calcium build up and can turn the tile white or gray when dry. While there are some solutions to removing this build up, such as sand blasting or glass bead blasting in some cases it bonds like cement to the surface and cannot be removed. VIP technicians do brush these surface on a regular basis however the calcium tends to bond to the surface during the drying process and therefore is inevitable. Calcium build up is quite typical in South West Florida and  does occur an a vast majority of pools. VIP does use several companies that provide sand blasting and can arrange for a representative to contact you with some possible solutions for removal.
*Some Services are performed by Qualified, Licensed and Insured Subcontractors at a previously negotiated discount rate for VIP Pool Care Customers.
Call VIP Pool Care 239-877-5061 or fill out our contact form.