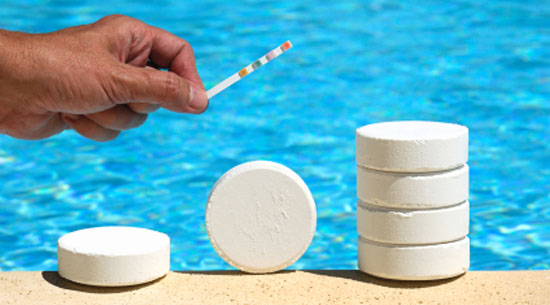 Our highly trained pool and spa technicians will make trips to the pool and or spa as stated below to perform the selected service.  If the regular service day falls on a holiday, we will re-schedule the service day to another day within the same week.
Upon the initial visit (to a new pool) it may require additional chemicals to properly balance the pool to industry standards.  This may require VIP technicians to use additional chemicals and a "one time" water balancing and treatment charge will be imposed.
Plan prices apply to residential pools 15 X 30 or smaller. Larger pools are priced upon inspection.  All standard  chemicals used to sanitize and clean your pool are included in the plan prices (i.e. chlorine, acid, bi-carb, bleach). 
We understand it is necessary to have the pool deck pressure washed. Since most of the debris, bacteria and mold are washed into the pool this does require the technician to spend an additional amount of time to properly clean and sanitize your pool.  We will also have to use additional chemicals and materials  to properly balance the chemicals, There is an additional charge that will be accessed after pressure washing. 
*Please note when you utilize VIP's pressure washing division we do not charge any additional fees to clean your pool.
All prices are based on pools and/or spas with screen enclosures.  There is typically an additional charge of $10.00 per pool without a screen enclosure,

PLATINUM PLAN:  This pool cleaning plan includes two visits per week, your pool technician will leaf rake one day of the week and vacuum the other day, adjust and balance chemicals twice per week, skimming pool surface to remove debris twice per week, brush walls and tiles clean/empty skimmer baskets twice per week and back wash filter every 2 weeks.
*Starting at $125.00 per month.
This plan is popular with our most selective clients and is highly recommended for pools without cages surrounded and by trees or foliage.
GOLD PLAN:  This pool cleaning plan includes weekly visits with  vacuuming once per month and weekly wall/bottom brushing, weekly tile scrubbing, surface skimming, balancing chemicals each week and equipment inspection.  *Starting at $75.00 per month.
This is our most popular plan and is also the most economical.
SILVER PLAN:  This pool cleaning plan includes a weekly visit check chemicals weekly, bi-weekly brushing walls, weekly tile brush, clean/empty skimmer baskets as needed, vacuum every other  month, backwash filter at least one time a month.   *Starting at $65.00 per month.
BRONZE PLAN:  Residential service where we only take care of chemicals only.  Owner backwash's filter and vacuums pool.  *Starting at $50.00 per month.
This plan is popular with customers who have  a spa only or prefer to have VIP handle the chemicals only.
As you can see VIP is one of the most competitively priced pool companies located in Lee and Collier Counties.
When you consider the cost of chemicals and the time involved to maintain your own pool it is typically less expensive to hire a professional company.
Weekly service plans are designed and customized to fit the needs of the pool and the pool owner. Monthly rates are determined by area supervisors and based on size of pool, expectation of debris from plants around pool, difficulty of access, and quality of support equipment.
Extra charges typically are billed for removal of debris from major storms, tree trimming, construction, and pressure cleaning.
Let VIP make owning your pool a positive experience!
*VIP Pool Care does not add water to pools unless a water timer is provided.  We are in no way liable for the functionality of any water timer, and strongly encourage our customers to work with their Home Watch company to monitor the water level of their pool in between visits as well as the operation of the water timer.
* Calcium treatments, Phosphate & Nitrates tests and treatments are not covered under any of our plans and are an additional charge.

Call VIP Pool Care 239-877-5061 or fill out our contact form.